The biggest Festival on Digital and Social Innovation, this year makes the encore.

June 4, 2020

Online!
June and November, double appointment with the Web Marketing Festival.
The Web Marketing Festival moves the dates of its 8th edition to 19, 20 and 21 November 2020, once again at the Palacongressi in Rimini. But not only that, this year the appointment with the Festival becomes double: the 4, 5 and 6 June will be held the first online edition of the WMF. The festival, always inclined to innovation, has thought of this double proposal, especially to push this phase of revival that the whole country is going through.
During the dates of 4, 5 and 6 June - which were originally supposed to host the next edition - will be launched in fact the first online edition of the WMF, an innovative event that combines learning sessions with inspirational talks.

"We are experiencing a period of great global challenge. We asked ourselves about what was the most appropriate choice regarding the Festival: the solution we thought best was to postpone the WMF2020 to 19, 20 and 21 November, so as to be able to fully enjoy those moments of celebration, of proximity and connection that have always characterized the Festival" explains Cosmano Lombardo, creator of the WMF and CEO of Search On Media Group. "It was our duty to strengthen the offer and help to spread the benefits of innovation online. That's why we decided to make a double appointment: on 4, 5 and 6 June, we will live the first WMF online in a totally innovative formula. Dealing with emergencies like the Covid-19 needs greater efforts and we are trying to give as much support as possible to all our territory and beyond. Now more than ever, we need to work together and use digital innovation to improve society and build our future".
Who the festival is for
Freelance Professionals and Employees, Marketing Directors and Ceos, Bloggers and Enthusiasts, Investors, Startups and Scaleups, Agencies, Companies, Smes, Journalists, Markers and Researchers, Gamers and Lovers of Esports, Developers, Writers and Publishing Houses, Non-profit Associations, Students, Teachers, Schools and Universities, Public Administration.
All participants can find in the
training program
answers to their every need.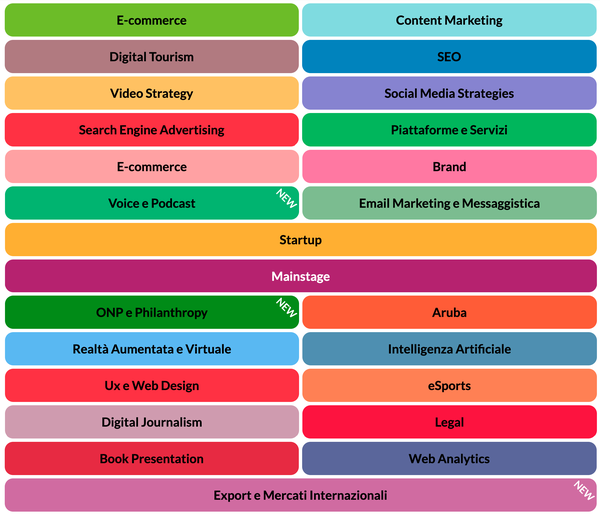 What about GMDE?
GMDE will be present at the event, as for the 2019 edition, with an additional proposal. In addition to the virtual stand, which can be visited by all participants, there will be an intervention in the "PLATFORMS and SERVICES" channel on the theme of Digital Transformation.