Observatory Workshop "Digital Content" - GMDE partner of the Observatory
The Digital Content Observatory of Politecnico di Milano carries out research whose main objectives are the definition of "digital content" with the evolution of the business associated with it, the mapping of the production chain and management of digital content, Analysis of consumer behaviour.
The Observatory seeks to quantify the digital content market in four main categories:
Information and News
Video Entertainment
Music
Gaming
As for the analysis of the behaviour of the final consumer, this ranges from the modalities of use of the contents up to the focus on the new generations of consumers, generations Z and α.
Last but not least topic of research is the study of the copyright market with the implications given by the regulations in force and their evolutions.
GMDE partner of the Observatory
GMDE was invited to take part in the first edition of the Digital Content Observatory because of its many years of experience alongside publishers.
Especially with regard to the category Information and News, GMDE is able to make its contribution to research knowing the evolution that had editorial content with the advent of digital. Managing employees with the consequent rights to use their content, content sharing and selling platforms, paywall and reader engagement are just some of the topics that GMDE has put on the research analysis plan.
The Italian consumer of digital content
The research that the Observatory has conducted recently with DOXA has developed on three objectives: to know more the behaviour of the consumer, to intercept and to understand eventual changes of the behaviour had in particular to the recent lock-down, analyze the way content is used.
The last vicissitudes linked to the 'emergency have changed the behaviours of consumers, who found themselves having so much free time to use as best they believed. The use of online content has thus had an exponential growth both of the content used and of the revenues given by any subscriptions made. Let's just think about the possibility of not being able to go out and buy the newspaper that prompted some readers to activate digital subscriptions. A small percentage (21%) of consumers of the Z generation, from 16 to 23 years, has approached the online news industry.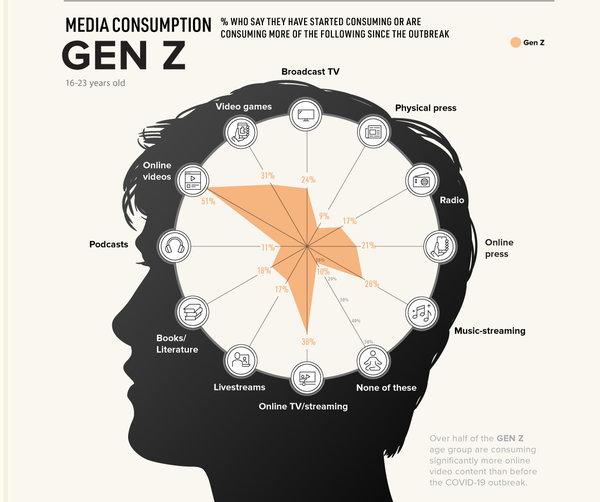 A very important component that connects digital content and consumers is definitely time. Once back to normal, the consumer will have to choose what content to use according to the time available.
This must push content producers, publishers in the case of the GMDE reference market, has given greater value to the content itself to increase the loyalty of readers and their involvement.
Credit: VisualCapitalist